Continuing my new favorite apps list from yesterday, here's three new Most Useful Apps:
Fancy Widget Pro – A slick, highly customizable clock and weather widget with configurable tap actions and tons and tons of skins. As I mentioned yesterday, I got the paid version for free from the Amazon Appstore, but the free version looks to have most of the main features the pro version offers.
Jorte – A really slick calendar/personal organizer app with lotso customization options. Easy to use, syncs to your Google calendar, and has a number of really nice and attractive widget options.
Quick Settings – This app lets you quickly toggle and change common Android settings like GPS, wifi, bluetooth, volume, brightness, ringer, and screen timeout within another app via the status bar or a long press of the search key. It also displays memory use, battery consumption, and has a flashlight toggle.

Ever turned on Navigation to get turn-by-turn directions and realized you'd forgotten to turn on the GPS receiver? Or wanted to download something and realized wifi wasn't enabled? Or been in the middle of explaining some Android workings to your significant other and your screen keeps timing out? You don't have to sigh and bring up your home screen toggle (or worse, go through Settings), before returning to your app. With Quick Settings, you can change fundamental Android settings without leaving your app. Once you try Quick Settings, you'll boggle that you ever managed without it.

Screenshots:
From the status bar tap Quick Settings.
To bring up a customizable pop-up chock-full of options.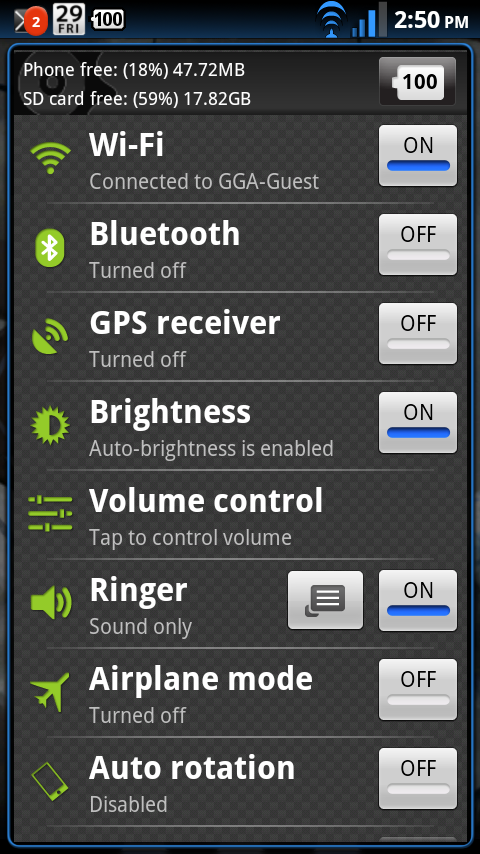 Tomorrow: My new Most Fun Apps.