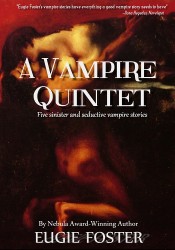 In these five sinister and seductive vampire stories from Nebula Award-winning author Eugie Foster:
There is an enchanted castle where a golden princess languishes in her rose-strewn bower, waiting for her prince charming. But the princess sleeps with a black wood stake through her heart, and her petal-soft lips conceal a pair of razor fangs.
A violated woman's vengeance spawns a blighted curse upon the world.
A near-future urban cityscape is the base for shock troops that only come out at night to vie in a cyberpunk turf war of technology and power.
William's heart thrums in his chest, a rhythm his mistress abhors. Not dead enough, not cold enough to walk the night at her side, but too bloodthirsty to dwell with men.
Waiting in the wings backstage, Cybele is inspiration incarnate, a lissome goddess who metes out passion, releasing the words and melodies that seethe, locked in Rail's mind. She is everything he desires, and gives him everything he's ever dreamed of having. But she requires payment, her fair due.
Table of Contents:

The Son that Pain Made
Still My Beating Heart
The Few, the Proud, the Leech Corps
Inspirations End
Ascendancy of Blood
99 pages
Trade paperback (November 2013): $5.29
ISBN-13: 978-1-49283-992-7
ISBN-10: 1-49283-992-2
E-book (October 2013): $2.99
• Kindle
• epub, iPad, Nook, Palm (PDB), Sony (LRF)
ISBN: 978-1-30102-723-1
---
Praise For "THE SON THAT PAIN MADE":
Eugie Foster's darkly fantastic take on the origins of the vampire…This is a wonderful story, the other standout of the issue…Foster is meant for great things.
—James Palmer, Tangent
Praise For "STILL MY BEATING HEART/INSPIRATIONS END":
Eugie Foster's vampire stories have everything a good vampire story needs to have…The author is a great story-teller, who pays attention to details, creates great characters, and uses a highly enjoyable style. Her choice of words and her use of language gives a very special flavour to these writings, which makes it hard to put this book down. For those who enjoy vampire fiction, this book is highly recommended.
—Ilona Hegedus, Novelspot
these two vampire short stories are beautifully written and darkly unsettling, each with a twist on accepted conventions that makes them at once familiar and new…Beautiful, and recommended.
—Amanda A. Gannon, Shadow Muse: Naamah's Journal
Praise For "THE FEW, THE PROUD, THE LEECH CORPS":
The Few, the Proud, the Leech Corps' mixes elements from different genres, and while technology and urban guerrilla tactics certainly play a role in the action parts of this graphic story, it is the immortal fascination with vampires and the attractive, sensual imagery associated with them that captivates… reminiscent of one of David Cronenberg's nightmarish scenes.
—Yael Artom, Tangent
Praise For "ASCENDANCY OF BLOOD":
Combining elements of Sleeping Beauty and vampire tales, Ascendancy of Blood is a quick, sharply-told, gorgeously-described chapbook by up-and-coming author, Eugie Foster. Her strength here lies in the lush prose and seductive imagery that permeates the pages.
—Michael M. Jones, SF Site
Ascendancy of Blood is Eugie Foster's retelling of the fairy tale, 'Sleeping Beauty.' But this retelling is sinister, a children's tale no more, fraught with peril and filled with blood.
—Michael Gabriel Bailey, Tangent
A refreshing look at a traditional tale. Eugie Foster has written an enchanting little tale that keeps the reader interested until the very last word.
—Lesley, The Eternal Night